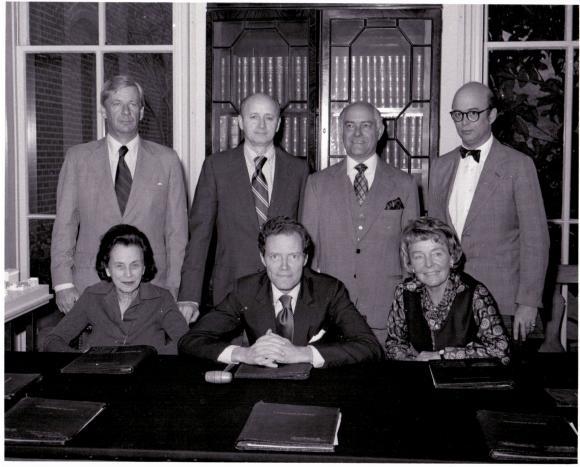 Kevin Roche (standing, second from left) shown in 1975 with fellow Commission members at the CFA's former offices at 708 Jackson Place on Lafayette Square. Left to right: (standing) Edward Durell Stone Jr., Kevin Roche, Nicolas Arroyo, George A. Weymouth; (seated) Chloethiel Woodard Smith, Chairman J. Carter Brown, Jane Dart. (Image credit: U.S. Commission of Fine Arts)
The U.S. Commission of Fine Arts is saddened to note the passing of former member Kevin Roche, FAIA. A prominent architect recognized for his professional work during the last half of the twentieth century, he served on the Commission from 1969 to 1980 with other nationally known designers including Gordon Bunshaft (CFA 1963–1972) and Hideo Sasaki (CFA 1962–1971) under the chairmanship of J. Carter Brown (CFA 1971–2002). During his time on the Commission, he participated in the review of significant projects such as the National Air and Space Museum, the Franklin Delano Roosevelt Memorial in West Potomac Park, and the work of the Pennsylvania Avenue Development Corporation.
Eamon Kevin Roche was born in Dublin and graduated from University College Dublin in 1945; he also studied at the Illinois Institute of Technology with Ludwig Mies van der Rohe and was a protégé of Eero Saarinen. His firm Kevin Roche John Dinkeloo & Associates, founded as a continuation of Eero Saarinen and Associates, designed numerous corporate headquarters, office buildings, banks, museums, and arts centers. A Pritzker Prize winner in 1982, Roche was also the recipient of an American Institute of Arts and Letters Brunner Award in 1965, the American Academy and Institute of Arts and Letters Gold Medal for Architecture in 1990, and the American Institute of Architects (AIA) Gold Medal in 1993.
Read more about Kevin Roche.