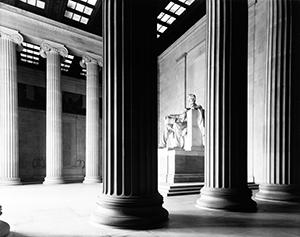 Since it was established by Congress one hundred years ago—on May 17, 1910—the U.S. Commission of Fine Arts has guided the design of Washington, D.C. This board of seven presidentially-appointed experts in the fine arts—including many of the most renowned American architects, landscape architects, planners, and artists of the last century—have safeguarded the unique and monumental qualities that define the visual character of the federal city.
To commemorate its centennial, the Commission of Fine Arts is sponsoring three important events at the National Building Museum. "A Century of Design: The U.S. Commission of Fine Arts, 1910-2010," is an exhibition exploring the Commission's continuing legacy and opens on May 15 (see exhibit panels (PDF, 21K)). On May 19, a day-long symposium, "Power, Architecture, and Politics: The Design of Washington and the U.S. Commission of Fine Arts," features six leading historians presenting topics ranging from the impact of landscape architect and Commission member Frederick Law Olmsted, Jr. to the continuing influence of longtime Commission Chairman J. Carter Brown. Also on May 19, architect Daniel Libeskind presents the fourth annual Charles H. Atherton Memorial Lecture, discussing the symbolism and architectural expression of commemoration, an enduring concern of the Commission.
In 2012, the Commission of Fine Arts will publish an extensive, illustrated study examining the defining projects and occasional controversies of its first 100 years that helped to shape the image not only of the Nation's Capital but of the nation itself.